September 2nd, 2011
Posted by
pftq
Bahaha!

For the while I actually thought I wouldn't be able to finish this, so I'm very content now.

Been working on this since July, and it's probably my first real song in almost year (since Darker Stormy). Lots of new stuff in this one, not only in melody, but also experimenting for the first time with tempo and pitch variation, fading and a few effects, etc. As usual though, I'm just messing around with the settings without any real clue what I'm doing, so if anything sounds off, let me know.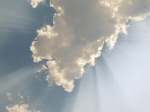 "Cloudlessly"
Hopefully finishing this song doesn't put me off onto another 1-year hiatus but we'll see. I'm just very content that I finished this before school gets busy again.
244 unique view(s)